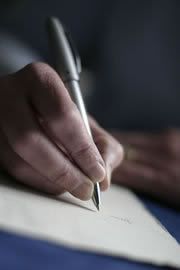 I love getting letters from my pen pal. Although I only have one pen pal I still enjoy it very much.
Pen pals are so much fun. I love how creative you can be when you write. Sticking stickers, writing in bubbles, and anything in between. The writing from pen pals make you feel closer to them. Emailing just doesn't make me feel the same. Getting a letter is like getting a
gift.
It means they took time out of their day to write to you. My pen pal can be funny, and even though she lives miles away, I feel closer every letter. She writes about her life, draws little pictures and sends small gifts. I send one back. I write slowly, I make jokes, I have fun. Writing to your pen pal is not something you need to have on a to-do list. You need to write when you feel you have something to say. You need to write when you want to. Don't make it something you have to dread. Writing needs to feel personal. Some ideas are,
Send a photo
Share what's going on
Share you're favorite so-and-so
Send some stamps
Send a short story or comic strip
I don't have any pen pals from blogger, but I hope to someday.
If you have a pen pal, do you feel the same way? If you don't have a pen pal, I suggest you get one. They are so much fun!